_________________________________

HARVESTER OF SORROW 

The first novel in the Ezekiel Marrs thriller series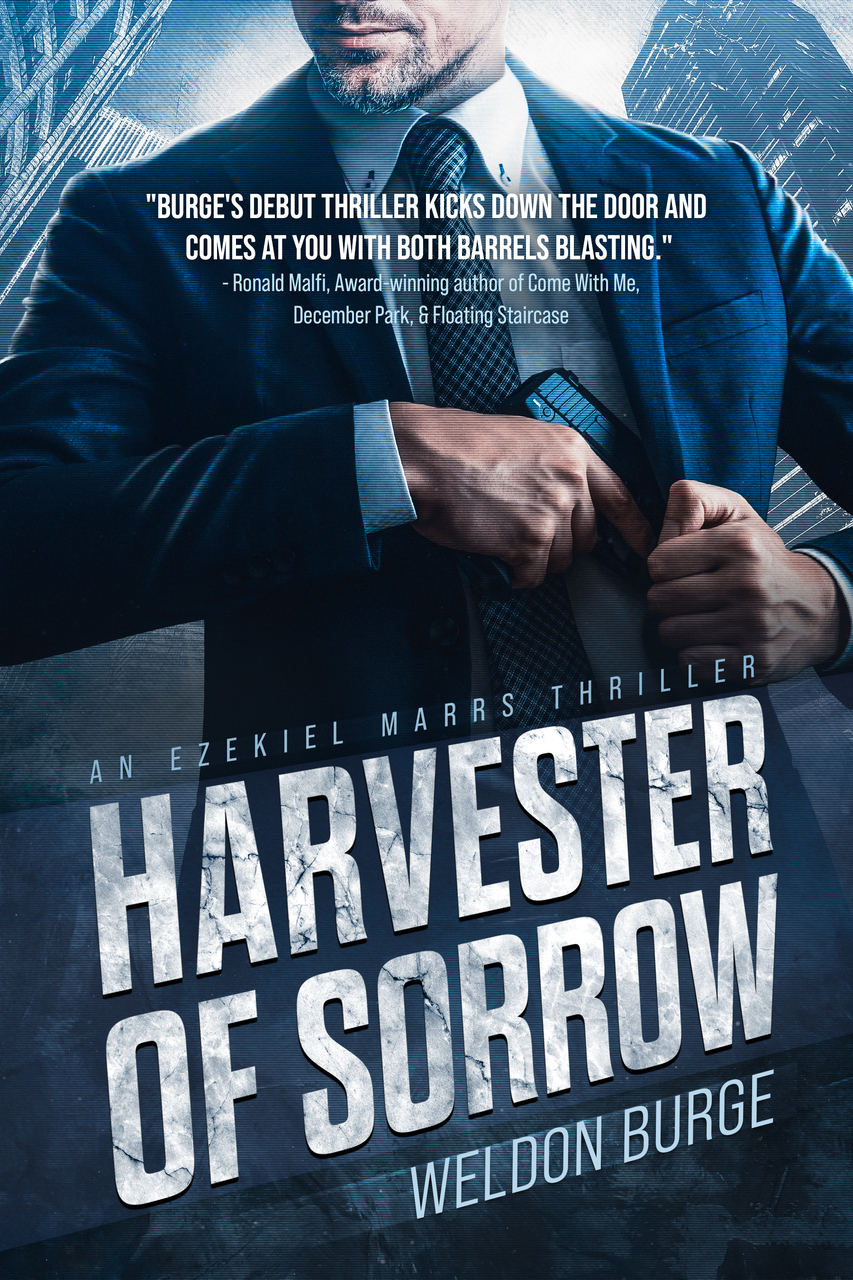 A vodoun priest is brutally slain in Port-au-Prince, Haiti.
On American soil, a man stands atop his car—naked from the waist down—and suddenly succumbs to a mysterious death.
Within the silence of a state park, an abducted child is found dead; yet another in a series of similar slayings.
In the small city of New Warfield, ODs have skyrocketed from the use of cocaine tainted with an undetermined substance.
Detective Ezekiel Marrs may just have the wealth of strength and skills needed to fight these dark forces, to uncover the facts behind these hideous cases and how they relate to one another. With his team, Ezekiel takes on the immense task of putting the pieces together…making the connections that will hopefully solve this puzzle and stop the seemingly endless death and destruction.
But when Ezekiel and his fellow police officers find themselves facing two of the most vicious adversaries they've ever encountered, more lives hang in the balance as they battle to survive a deadly, inevitable confrontation with unimaginable evil.
PRAISE FOR HARVESTER OF SORROW
"Welcome, Ezekiel Marrs, to the hall of great detective heroes. In HARVESTER OF SORROW, we get a front-row seat as Marrs confronts a sadistic, unforgettable killer with a rare and terrifying background: the bloody, dark arts of voodoo. It's a no-holds-barred run to the explosive climax where it's not a sure thing that Marrs will even survive. Grab a drink and find a comfortable chair to enjoy this new thriller from Weldon Burge...but leave the light on until you finish."
- Matthew Iden, Bestselling Author of the Marty Singer Detective Series
"Weldon Burge combines the creep factor of voodoo-style ritual with the horror of missing and murdered children in HARVESTER OF SORROW, an engaging start to his Ezekiel Marrs Thriller series. Along with exploring the reality of 'big city crimes' occurring in small towns, the story draws you in with its likable protagonist, keeps you reading, and compels you to continue doing so up to its nail-biting finish."
- Debbi Mack, New York Times Bestselling Author of the Sam McRae and Erica Jensen Mysteries
"A thrilling start to what I hope will be a long-running series! A grisly and fascinating novel!"
- Jeff Strand, Author of MY PRETTIES
"Weldon Burge's debut Ezekiel Marrs novel, HARVESTER OF SORROW, is a masterpiece of detective fiction. I look forward to reading more Marrs cases."
- Quintin Peterson, Author of S.I.N., GUARDING SHAKESPEARE, and THE VOYNICH GAMBIT
"HARVESTER OF SORROW is an impressive debut novel from Weldon Burge, and an exciting first installment in what will undoubtedly be a successful series featuring Detective Ezekiel Marrs. Assured, gritty, expertly paced, and sleek as a bullet, Burge's eerie and intense tale of grizzled detectives frantically searching for a ritual killer who may be far more than he seems is not to be missed. I could not put it down!"
- Greg F. Gifune, Bestselling Author of THE BLEEDING SEASON, SAVAGES, and MIDNIGHT SOLITAIRE
"A resounding, worthy entry to noir/horror/thriller genres. Weldon Burge's Detective Zeke Marrs ain't afraid of no ghosts, no voodoo, no vodoun priests, but in HARVESTER OF SORROW, he should be. Graphic, insightful look at the dark arts as they turn a city into a ritual-killing-spree nightmare. I recommend it."
- Chris Bauer, Thriller Author of The Blessid Trauma Crime Scene Cleaners Series plus SCARS ON THE FACE OF GOD, BINGE KILLER, and JANE'S BABY
"Burge has successfully brokered an unlikely, and happy, marriage between police procedural and supernaturally-tinged thriller that will keep you turning pages till the end."
- Dana King, Two-Time Shamus Award Nominee and Author of the PENNS RIVER Procedurals
"Burge's debut thriller kicks down the door and comes at you with both barrels blasting."
- Ronald Malfi, Award-Winning Author of COME WITH ME, DECEMBER PARK, and FLOATING STAIRCASE