OTHER PUBLICATIONS
COLLECTIONS & NONFICTION
Weldon has written two short story collections and a nonfiction book, all published by Smart Rhino Publications.
________________________

THE CONWRIGHT TRILOGY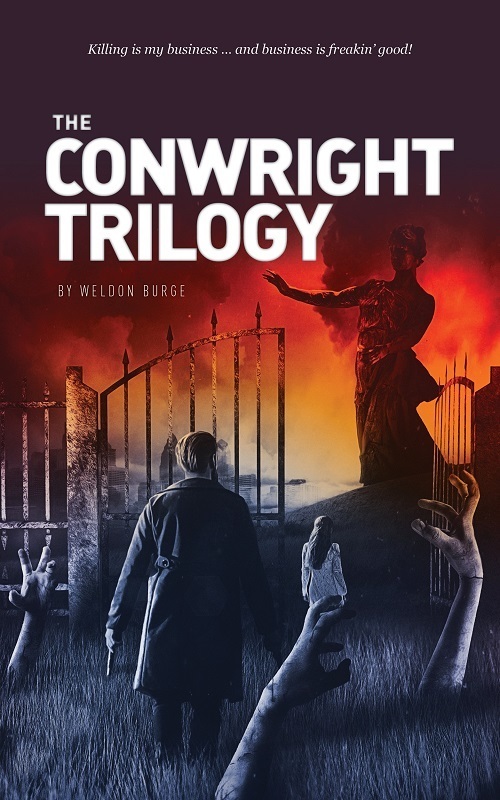 Francis "Flash" Conwright is an extraordinary hitman with a bizarre and highly disturbing trait—he fantasizes various inventive, unconventional killing methods, all in his imagination. Think of a perverted version of James Thurber's "The Secret Life of Walter Mitty." Conwright has seen and done it all when it comes to hired killers.
Here are three crime stories by Weldon Burge.
"Welcome to the Food Chain"—Conwright meets with an obese, wealthy man on his yacht in the Chesapeake Bay. He wants Conwright to off his trampy, gold-digging wife, but doesn't want to pay for it. Steamed crabs are involved.
"Right-Hand Man"—Conwright finds himself in a nasty, deadly predicament involving the mob, a set-up, and revenge. It's rough when you're in the nude with a gun in your face.
"Vindictive"—Conwright faces a ghost that is out to wreck his career. Can you kill someone twice?
REVIEWS:
"Three quick looks into the life of a particularly imaginative hitman. By the time you're through, you will have learned the names of more weapons that can do damage and more organs that can be damaged than you ever knew before. The three stories are crisply written and always keep you guessing."
ORDER NOW
_____________________________

GETTING THE STORY STRAIGHT: THE WHYS AND HOWS OF SUBMITTING STORIES TO ANTHOLOGIES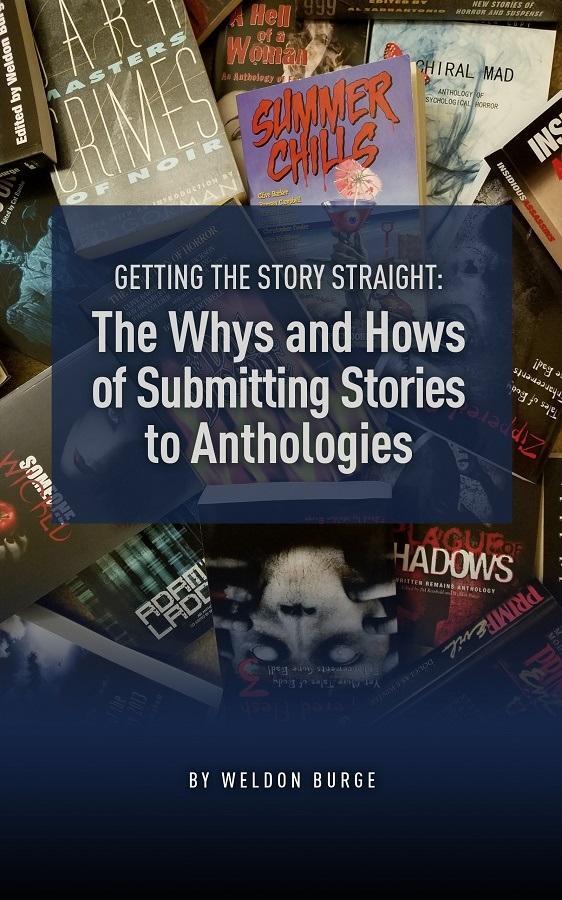 Many of us cut our teeth writing short stories. But how do you find markets for your work? Consider submitting to anthologies. This book will help you tailor your stories for the best chances for acceptance and publication.
Why anthologies? The odds are in your favor with anthologies because the acceptance rate at many magazines and journals, despite their proliferation now online, is discouragingly low. Anthologies, on the other hand, typically have narrower themes—and the narrower the theme, the better your odds of acceptance. Assuming, of course, that your story meets that theme. Stories that squarely hit an anthology's target will likely go to the top of an editor's pile of submissions.
Another thing to consider is that an anthology can provide a market for your previously published work. Although many anthologies accept only unpublished work, many are also open to reprints. In fact, some anthologies accept only previously published work. If one of your stories meets an anthology theme and the anthology welcomes reprints, polish it a bit and send it along.
As Weldon wrote this book, he also asked other editors and writers (many of them contributors to Smart Rhino anthologies) for their observations, suggestions, and advice. He has quoted them throughout the book and hopes you find their opinions and recommendations helpful.
One last note about this book. This is not a how-to on writing techniques—there are plenty of other books and magazines to help you with that. The focus here is on how to submit your work to anthologies. If that's your goal, read on!
REVIEWS:
"There is a wealth of information I wish I'd had when I'd started out submitting to anthologies. Most of it might be common sense, but you'd be surprised how much of it is ignored by new authors. The short interviews with established authors spread throughout are also great, and it hammers home the do's and dont's of submitting to an anthology."
"Weldon Burge, an editor and publisher, as well as author, offers his advice simply and cordially. In addition, he enlists the suggestions of other writers and editors who draw on their own experiences of working with anthologies. I particularly was struck by the emphasis on following publisher guidelines. Such a simple thing, you'd think. And yet..."
ORDER NOW
_____________________________

BROKEN: STORIES OF DAMAGED PSYCHES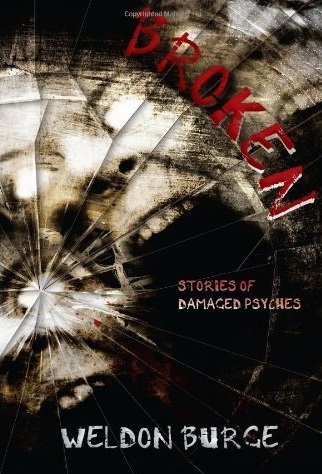 This collection of five horror/suspense stories by Weldon Burge represents much of his earlier work. The collection includes:
SIZZLE -- A philandering doctor meets a hillman who wants the "sizzle" cut out of his brain.
ANOTHER HIGHWAY FATALITY -- A college girl, driving alone late at night during a heavy storm, is stalked by a car with a missing headlight.
WHITE HELL, WISCONSIN -- A snowplow driver, plowing back roads in rural Wisconsin during a blizzard, fights for his life against elusive assailants.
PERMANENT DETENTION -- A stressed-out teenager believes his History teacher is actually one of the living dead.
BLUE EYE BURN -- A Vietnam veteran is haunted by a terrifying incident involving a young Vietnamese girl.
REVIEWS:
"These stories are exactly like those I've seen on Tales from the Crypt or Twilight Zone, which is where the author got the inspiration. From a doctor with a 'sizzle' to shut his wife up for good to a high school kid dreading spending any more time with his gruesome history teacher, these stories are delightfully scary and full of irony. Loved them!"
"I devoured these stories on one sitting and enjoyed every single one immensely. I would find it impossible to pick out one as a favorite but I particularly enjoyed the completely unexpected ending of 'White Hell, Wisconsin'. I found a couple of the stories, while still scary, conveyed the writer's tongue-in-cheek approach to horror."
"This collection of short stories from Weldon Burge was exceptional. Besides his fine-tuned voice and sharp writing, the stories are all suspenseful, scary, and unique, despite the common thread of the theme. His ability to create visuals and evoke emotions with few words is amazing. There's nothing unnecessary in Burge's stories ... the prose is whittled down and crystal clear."
ORDER NOW
SMART RHINO PUBLICATIONS ANTHOLOGIES
In 2012, Weldon and his wife, Cindy, founded Smart Rhino Publications, an indie publishing company focusing primarily on horror and suspense/thriller books, many of them anthologies. To date, the company has published 17 books, the most recent is the anthology Asinine Assassins. As Executive Editor of the company, he has edited all the books Smart Rhino has published. Following are the anthologies in the Smart Rhino catalog.